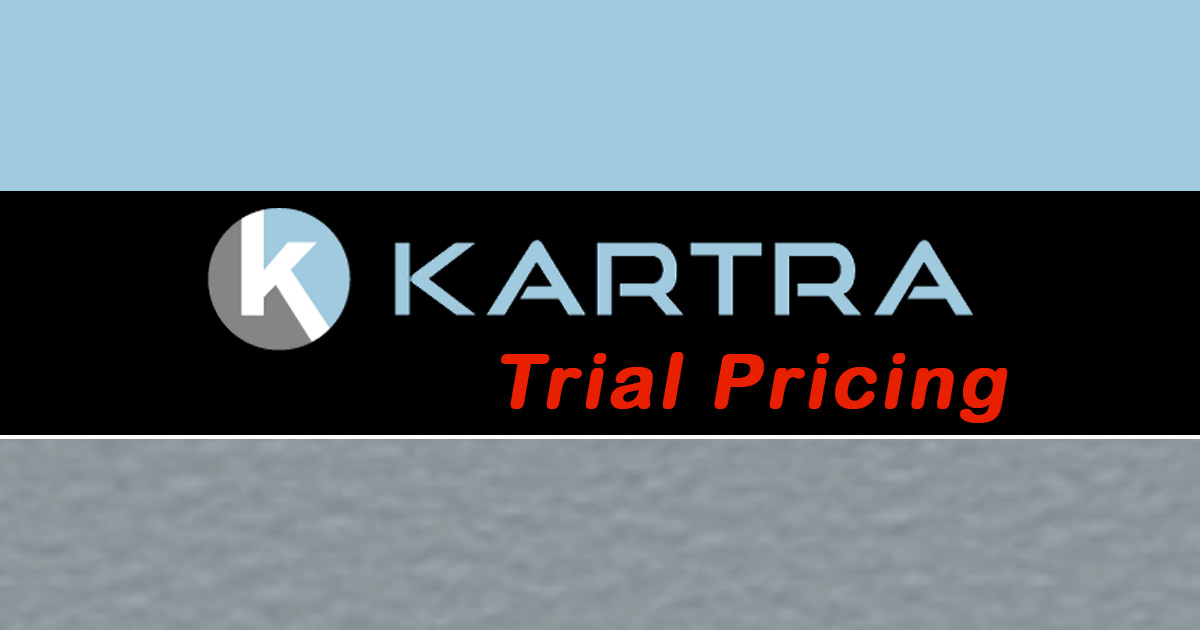 If you're looking for a simpler way to start your digital marketing business but the idea gave you a headache from trying to figure out cumbersome scripts and software, then you'll be happy because for a limited time, Kartra has released a new trial pricing package to help jumpstart your digital marketing for only $1.
Click Here to See If There's Spots Still Available
How does the Kartra Trial Work?
It depends on your package but essentially you can get started for only $1.
Once you sign up for the trial you can pick your package based on the number of contacts and emails you plan to send.
The base package starts at only $89 per month that allows you to have 2500 contacts.
The biggest benefit is Kartra takes the place of countless other tools most digital marketers are paying separately while also having a slew of integrations with 3rd party apps.
Which brings me to answer the question…
New 30 Day Kartra Free Trial Option?
It's pretty easy to double the typical 14-day trial option into a full 30 day trial using this backdoor link here at Hugo Slim.
It's as close to free as you can get with the trial starting at only $1.
Here's how it works.
Start by clicking this link here while on a desktop.
Then click to order.
Move your browser to the address bar (like you would if you were going to a different site or hitting the back button)
Wait for a popup to appear offering to double our trial for a full 30 days.
What is Kartra?
If you're just now hearing about Kartra, realize this is an all in one solution that's getting rave reviews from digital marketers all across the globe.
Think Clickfunnels landing page builder combined with shopping cart capability, email autoresponders, affiliate management, and a whole lot more.
See the Kartra Demo Below
Kartra is the first of its kind because it's a full campaign builder from creating landing pages, deploying emails that coordinate with your offer and deadline, along with all the scheduling capabilities and automation rules for using behavior based marketing.
In addition, you have the capability with calendars for scheduling client consults and coaching which makes the perfect fit for anyone using a coaching, consulting, or service based business.
Kartra Reveals Done For You Campaign Builder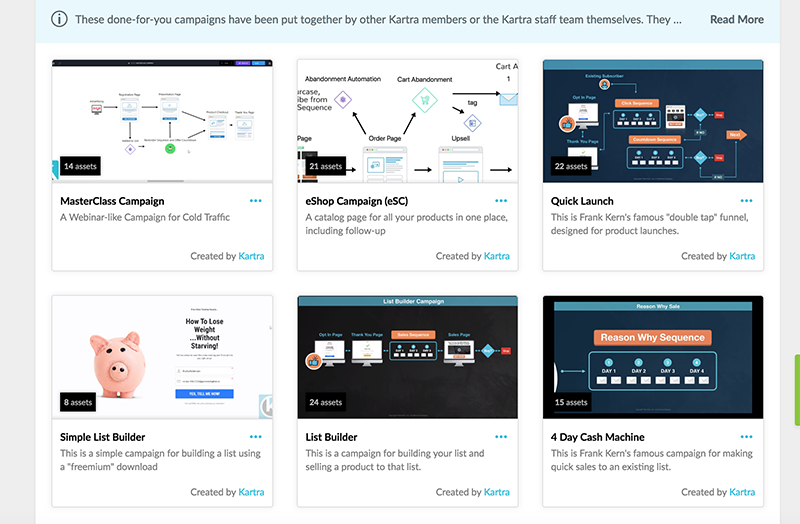 As you can see from the image above, Kartra's done for you campaign builder makes sales funnels, automation rules a breeze with campaigns from Kartra and other Kartra members including the legendary Frank Kern.
Just one of the many campaigns available to Kartra users is Frank Kern's 4 Day Cash Machine.
Once you deploy, this entire campaign that includes landing pages, emails, and countdown sequence all gets dropped into your account so you can easily create your own winning 4 Day Cash Machine.
Using other software, you have to build these individually and manually build the email campaigns as well.
Kartra makes it easy because everything is done and deployed under one roof.
Click Here To See If Trial Spots Are Still Available
Who Is the Kartra Free Trial A Fit For?
If you're a digital marketer and wondering if Kartra is for you, here's who will benefit.
Digital Agencies looking to get more clients
Coaches looking to get more clients and need help automating campaigns
Affiliate marketers
Course Creators
Membership Site Creators
Virtually anyone looking for more advanced features while also simplifying everything.
Many marketers are finding that in addition to Kartra helping simplify their marketing online, it's also a cost effective approach because it's allowing them to stop using countless other tools because Kartra has it all built into one software.
So picture this.
Instead of investing in landing page builders, membership scripts and software, autoresponders, scheduling apps, deadline software- Kartra has everything you need to build campaigns with just one software.
Get all of the following with a Kartra Trial account
Product Delivery
Page Builder
Affiliate manager
Form Builder
Membership Portal
Calendar and Scheduling
Help Desk
Click Here To See If Trial Spots Are Still Available